We take pride in selling quality mattresses and pillows.
Our comfort retailers, Amazing Rest and I Love My Pillow provides exceptional high-quality mattresses and pillows at an extremely affordable price. Hot Tub Tony's takes pride in offering you the best quality mattresses and Out Cold pillows that will bring you amazing rest.
Better components, better construction all made in the USA. We work hard every day to bring you the highest quality products.
Compare our mattress component details to other mattresses on the market. Then compare our price to begin to understand our value.
We take pride in bringing you high quality affordable mattresses all designed to help you achieve amazing rest.
Our manufacturing facility is located in Two Rivers Wisconsin. Our staff takes great pride in producing amazing quality mattresses.
Locally Sourced Materials
Every single component in an amazing rest mattress is sourced in the United States.
Bigger isn't always better
Our mattress lineup is simple on purpose. No confusion, simple options to meet the needs of most consumers.
Amazing Quality - Amazing Value - Amazing Rest
FOR 20 YEARS WE'VE CONSIDERED OURSELVES "FOAM ARTISTS," ENGINEERS WHO HAVE MANUFACTURED FOAM FOR SOME OF THE LARGEST COMPANIES IN THE UNITED STATES.
Until one day when we were shopping for pillows for our family and found ourselves completely overwhelmed by all the highly technical stories that cluttered the shelves. When did pillows get so complicated? And how were we supposed to choose one for each member of our household?
Extremely frustrated, we went back to the lab to see what we could come up with. The goal was to develop one material that would provide instant comfort and all night support for the whole family.
That's why after 2 years of good old American ingenuity and testing, we finally perfected our secret formula which is undeniably the softest, lightest and most supportive foam we'd ever felt. That says a lot considering we've been obsessed with foam for over 2 decades!
We wanted to use technology as a means to an end, not a way to confuse consumers into buying something. That's why when our founder's 8-year-old daughter exclaimed, "I Love My Pillow!" during the testing phase, we decided to let the name stick, because that's exactly how we want all of our customers to feel.
Hot Tub Tony's sells the ultimate Out Cold Pillow.
The ultimate cooling pillow will have you Out Cold in seconds! Our premium Dual Climate Cover actively pulls heat away from you on one side and keeps you warm with our soft MicroFiber fabric on the other side.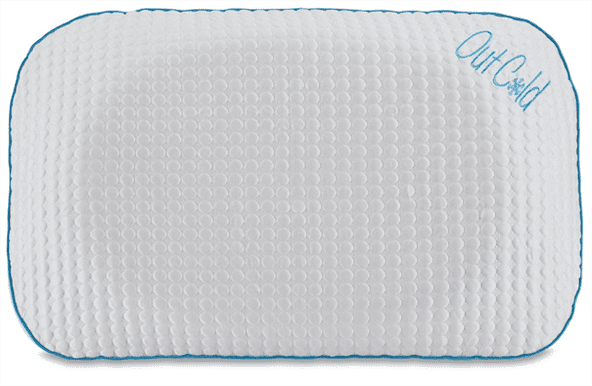 Special Financing is Available!